Farm Eggs, Chicken and Pork
At Crossings we offer a variety of eggs, whole chickens, chicken cuts as well as pork cuts. Our animals are fed locally grown non-GMO feed.
Egg Prices
Eggs: $3.50 per dozen
$2.00 per 1/2 dozen
$5.00/18 count
Poultry Prices
Whole Bird: $3.00 per pound
Whole Cut up Bird: $3.50 per pound
Thighs & Legs: $3.50 per pound
Wings: $4.00 per pound
Breasts: $7.00 per pound - Temporarily Sold Out
Liver: $2.00 per pound - Temporarily Sold Out
Backs/Necks (for stock):
$2.00 per pound
Feet:$2.00 per pound
Pork Prices
Whole Tenderloin: $12.00
Boston Butt: $5.50 per pound
Picnic Roast: $5.50 per pound
Boneless Pork Chop: $6.00 per pound
Bone-in Pork Chop: $5.50 per pound
Spare Ribs: $5.25 per pound
Baby Back Ribs: $6.50 per pound
Sausage (Mild & Hot): $5.25 per pound package
Ground Pork: $4.50 per package
Uncured Bacon: $4.00 per pound-Temporarily Sold Out
Pork Belly: $4.50 per pound unsliced (sliced $5.00 per pound)
Leaf Lard: $3.50 per pound
Fat Back: $2.00 per pound
Rendered Leaf Lard: $7.50 per pint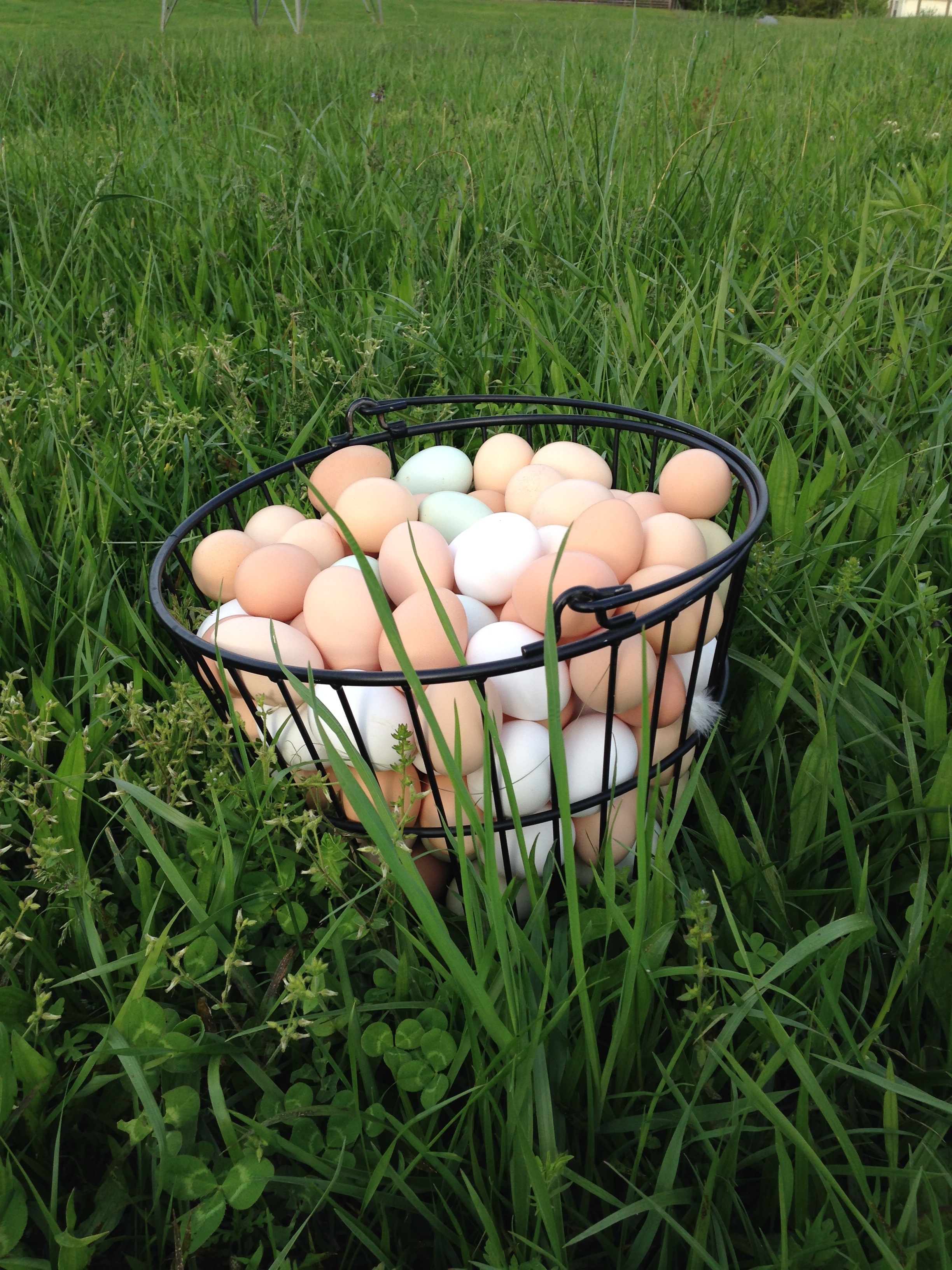 Eggs from hens on fresh grass
Evident from shell to the lush yellow yolk, Crossing's eggs are different. Fed fresh grass and wholesome local grains, the hens are pampered so that they produce the best and most flavorful eggs for your family.
Crossings Whole Roasters or Friers
Raised right here on the farm, Crossings whole birds range from slightly less than three pounds all the way to 6 pounds for the large family. Raised on fresh grass and wholesome grains our whole chickens are moist, juicy and perfect for grilling,roasting, frying, or making speciality items such as chicken pie or soup.
Crossings Breasts
One of the most popular items are Crossings Breasts. Tender and juicy, they are perfect for grilling any time of year. Normally packaged as 2 per pack, they are perfect on a salad or by themselves as a meal.
Crossings Leg Quarters
So often overlooked, the thigh and leg or leg quarter is a wonderful piece of dark meat that proves to be exceptional in flavor. Grilled, fried or roasted, they are wonderful. Try this: Place pats of butter under the skin and sprinkle liberally with salt and pepper. Roast at 450 for approximately 45 minutes. The skin is crispy and amazing !!!!!
Crossings Bone-In Pork Chops
These Bone-In Chops are made for the grill !! The perfect marbling from our heritage breed pigs add flavor that you just can't find anywhere else. Place in a salt water brine for tasty results !!
Crossing's Boston Butt
Exceptionally versatile on the grill or in a slow cooker, the Boston Butt is perfect for any time of the year. Packaged in 2 - 4 pound cuts, they are great for pulled pork sandwiches or pork tacos !!
Crossings Mild Breakfast Sausage
Mild enough for children and the those who prefer the taste of pork over seasonings, Crossings sausage comes in 1 pound packages and can be pattied to your preference.
Crossings Pure Lard
Packed full of Vitamin D and essential amino acids, Lard is a more wholesome and natural way to fry foods. Pure lard from Crossings also produces a light and flaky crust when used in your homemade pastries !!